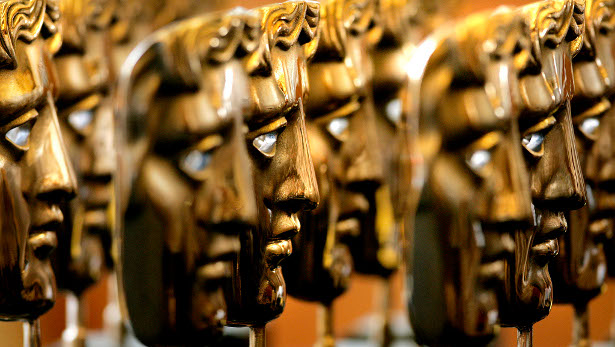 Saiu a lista dos indicados ao BAFTA, a maior premiação de cinema da Europa. Fora as categorias secundárias, nenhuma surpresa. Clique nos links para conferir a crítica de cada longa. Confira a lista:
Best Film
Boyhood
The Imitation Game
The Theory of Everything 
Birdman
The Grand Budapest Hotel
Comentários: The Grand Budapest Hotel conseguiu fôlego para chegar nas principais categorias. Um destes cinco filmes vai levar o Oscar. O leitor sabe que deposito todas minhas fichas em Boyhood.
Alexander Korda Award for Outstanding British Film of the Year
The Imitation Game
The Theory of Everything 
Pride
'71
Paddington
Under the Skin
Comentários: categoria que prestigia o melhor longa do país. A disputa entre Imitation e Theory será acirrada.
Best Actor
Benedict Cumberbatch for The Imitation Game
Jake Gyllenhaal for Nightcrawler
Eddie Redmayne for The Theory of Everything 
Michael Keaton for Birdman
Ralph Fiennes for The Grand Budapest Hotel
Best Actress
Julianne Moore for Still Alice
Rosamund Pike for Gone Girl
Reese Witherspoon for Wild
Felicity Jones for The Theory of Everything
Amy Adams for Big Eyes
Best Supporting Actor
Mark Ruffalo for Foxcatcher
Ethan Hawke for Boyhood
J.K. Simmons for Whiplash 
Edward Norton for Birdman
Steve Carell for Foxcatcher
Comentários: os dois destaques de Foxcatcher nomeados. Muito bom!
Best Supporting Actress
Patricia Arquette for Boyhood
Keira Knightley for The Imitation Game
Emma Stone for Birdman
Imelda Staunton for Pride 
Rene Russo for Nightcrawler
David Lean Award for Achievement in Direction
Alejandro González Iñárritu for Birdman
Richard Linklater for Boyhood
Wes Anderson for The Grand Budapest Hotel
Damien Chazelle for Whiplash
James Marsh for The Theory of Everything
Comentários: a inclusão de Damien Chazelle não era esperada.
Best Screenplay (Original)
Boyhood: Richard Linklater
The Grand Budapest Hotel: Wes Anderson, Hugo Guinness
Nightcrawler: Dan Gilroy
Whiplash: Damien Chazelle
Birdman: Alejandro González Iñárritu, Nicolás Giacobone, Alexander Dinelaris, Armando Bo
Best Screenplay (Adapted)
American Sniper: Jason Hall
Gone Girl: Gillian Flynn
The Imitation Game: Graham Moore
The Theory of Everything : Anthony McCarten
Paddington
Comentários: American Sniper vem ganhando força neste último mês.
Best Cinematography
Birdman: Emmanuel Lubezki
The Grand Budapest Hotel: Robert D. Yeoman
Interstellar: Hoyte Van Hoytema
Mr. Turner: Dick Pope
Ida: Lukasz Zal, Ryszard Lenczewski
Best Editing
Birdman: Douglas Crise, Stephen Mirrione
Whiplash: Tom Cross
The Imitation Game: William Goldenberg
Nightcrawler: John Gilroy
Interstellar: Jinx Godfrey
The Grand Budapest Hotel: Barney Pilling
Best Production Design
Big Eyes: Rick Heinrichs, Shane Vieau
The Grand Budapest Hotel: Adam Stockhausen, Anna Pinnock
The Imitation Game: Maria Djurkovic, Tatiana Macdonald
Interstellar: Nathan Crowley, Gary Fettis
Mr. Turner: Suzie Davies, Charlotte Watts
Best Costume Design
The Grand Budapest Hotel: Milena Canonero
Into the Woods: Colleen Atwood
Mr. Turner: Jacqueline Durran
The Imitation Game: Sammy Sheldon
The Theory of Everything: Steven Noble
Original Music
The Grand Budapest Hotel: Alexandre Desplat
The Theory of Everything: Jóhann Jóhannsson
Birdman
Interstellar: Hans Zimmer
Under the Skin: Mica Levi
Best Make Up/Hair
The Grand Budapest Hotel: Frances Hannon
Guardians of the Galaxy: Elizabeth Yianni-Georgiou, David White
Into the Woods: J. Roy Helland, Peter King
Mr. Turner: Christine Blundell, Lesa Warrener
The Theory of Everything: Jan Sewell
Best Sound
American Sniper: Walt Martin, John T. Reitz, Gregg Rudloff, Alan Robert Murray, Bub Asman
Birdman: Thomas Varga, Martín Hernández, Aaron Glascock, Jon Taylor, Frank A. Montaño
The Grand Budapest Hotel: Wayne Lemmer, Christopher Scarabosio, Pawel Wdowczak
The Imitation Game: John Midgley, Lee Walpole, Stuart Hilliker, Martin Jensen
Whiplash: Thomas Curley, Ben Wilkins, Craig Mann
Best Achievement in Special Visual Effects
Dawn of the Planet of the Apes: Joe Letteri, Dan Lemmon, Erik Winquist, Daniel Barrett
Guardians of the Galaxy: Stephane Ceretti, Paul Corbould, Jonathan Fawkner, Nicolas Aithadi
The Hobbit: The Battle of the Five Armies: Joe Letteri, Eric Saindon, David R. Clayton, R. Christopher White
Interstellar: Paul J. Franklin, Scott R. Fisher, Andrew Lockley
X-Men: Days of Future Past: Richard Stammers, Anders Langlands, Anders Langlands, Tim Crosbie, Cameron Waldbauer
Best Film not in the English Language
Ida
Leviafan
Trash
Dabba
Deux jours, une nuit 
Comentários: a ausência de Force Majeure é surpreendente. Ida segue como o grande favorito em todas estas premiações.
Best Animated Feature Film
The Boxtrolls
Big Hero 6
The Lego Movie
Comentários: Nenhuma grande surpresa. Lego vai levar todos os prêmios deste ano.
Best Documentary
Citizenfour
Twenty Feet from Stardom
Virunga
Finding Vivian Maier
20,000 Days on Earth
Comentários: Não pode deixar de passar em branco a ausência de Life Itself, que considerava favorito ao Oscar.