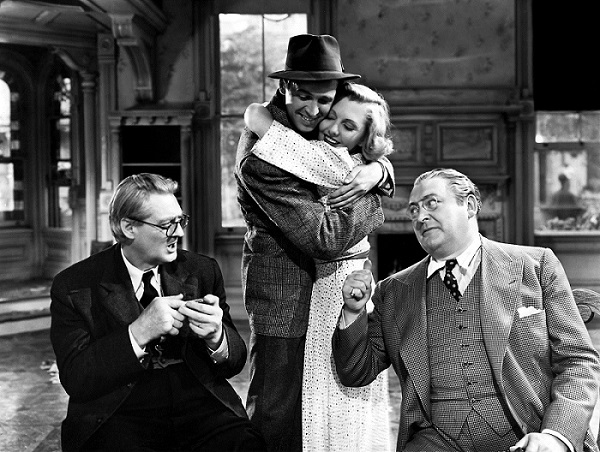 Enquanto a Europa olhava apreensiva para a Alemanha Nazista de Adolf Hitler, a indústria cinematográfica se reuniu no dia 23 de fevereiro de 1939 para premiar You Can't Take It With You com o Oscar de melhor filme. A história por trás de vitória deste longa é bastante discutida pelos críticos e fãs de cinema: muitos acusam que o diretor Frank Capra usou e abusou de seu prestígio por trás das cortinas para conseguir seu terceiro Oscar como diretor e ver sua produção premiada. Os que apoiam esta teoria sustentam que Capra ganhou todos seus prêmios justamente no período em que ele foi presidente da Academy of Motion Picture Arts and Sciences.
Polêmicas à parte, não se pode negar que a Columbia investiu pesado na produção de You Can't Take It with You. Com as receitas diminuindo bastante – muito por conta da turbulência e incertezas na Europa – o longa orçado em 1 milhão e 500 mil de dólares foi a grande consagração do chamado Capra-corn (ou filme Capraesque). Com um elenco promissor, ele buscou retratar o lado bom do homem através da figura de Tony Kirby (James Stewart), filho de um magnata da indústria de munição estadunidense que se apaixona por Alice Sycamore (Jean Arthur), uma simples taquigrafa que trabalha na empresa Kirby. O problema é que a tradicional família não aceita ver seu filho comprometido com uma moça de "baixo calibre" (ou sem árvore genealógica, como é sugerido no longa). Para tentar convencer seus pais de que Alice é uma mulher única, Tony arranja um encontro entre de Anthony P. Kirby (Edward Arnold) e do vô Martin Vanderhof (Lionel Barrymore) só que tudo dá errado quando todo mundo vai parar na prisão. A história deste improvável  amor corre em paralelo com um plot secundário: a empresa de Kirby quer se expandir e acabar com a concorrência. Eles compram todos os terrenos da região mas enfrentam resistência justamente da agitada família Sycamore.
A deliciosa comédia é recheada de situações hilárias. O roteiro privilegia a análise de cada personagem. E é justamente o confronto entre a riqueza da família Kirby e o jeito despojado e simples da casa de grandpa Vanderhof que torna este filme como um dos grandes clássicos da década de 1930.
[youtuber youtube='http://www.youtube.com/watch?v=0WY9RAroTS0′]
NOTA: 8/10