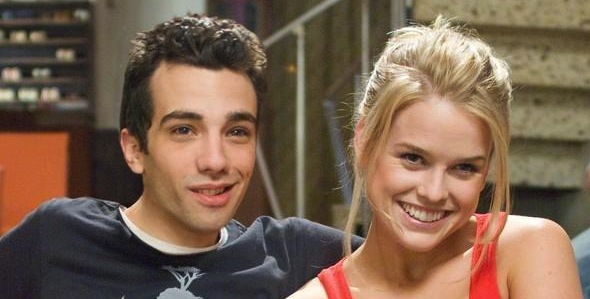 O que pensar de uma comédia romântica onde a mulher é representada como um mero objeto sexual? Boa coisa certamente não dá. She's Out of My League (Ela é Demais Pra Mim, no Brasil) ainda desce mais o nível e apresenta um roteiro montado sobre situações irreais e diálogos bizarros (para dizer o mínimo).
Jay Baruchel interpreta Kirk, um segurança de aeroporto que faz aquele típico rapaz legal que não consegue chamar a atenção de ninguém. Mas um dia a linda Molly (Alice Eve) se interessa pelo jovem e passa a correr atrás dele para engatar um romance a todo custo. O filme tenta se aproximar de uma situação muito comum e discutida entre os homens da faixa etária do protagonista: a baixa autoestima. Só que de uma hora pra outra Kirk deixa de ser o tímido e querido segurança para ser nada mais nada menos que o galã que conquistou a mulher mais bela da cidade. Progressão e acompanhamento do personagem? Nem fale disto, tenho certeza que nem passou pela cabeça do diretor Jim Field Smith.
O fato é que este tipo de película já tem uma fanbase sólida e quase sempre traz ótimos números para as produtoras e distribuidoras (como aconteceu neste caso). Mas as piadas sem graça e os clichês tornam a experiência de She's Out of My League chata e repetitiva.
NOTA: 3/10