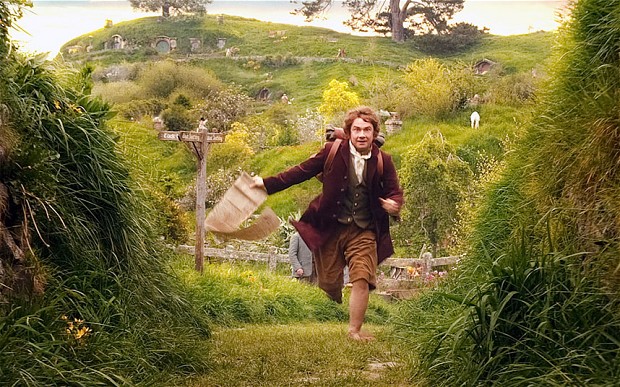 The Hobbit: An Unexpected Journey (O Hobbit: Uma Jornada Inesperada, no Brasil) foi o único feature film americano indicado para o Academy do ano passado que eu não assisti. Poderia citar uma pequena listinha de motivos, mas resumo apenas ao total repúdio da forma como Peter Jackson quer impor os 48 frames a todo custo no cinema (obviamente o home vídeo que assisti para esse review tinha 24 quadros/segundo). Decidi, enfim, assistir ao longa para poder avaliar sua sequência, indicada a três Oscars.
Todd McCarthy criticou duramente a duração do longa. Brilhantemente citou que a forma detalhista de adaptação de Jackson levaria, por exemplo, o Mágico de Oz demorar uma hora apenas para deixar o Kansas. E The Hobbit levou uma hora para contar a jornada inicial de Bilbo, fato extremamente desagradável. Mas o filme providencia cenários, atuações e cenas tão boas quanto a série The Lord of The Rings.  Ainda assim, o rating PG-13 limitou bastante o progresso nos combates, fazendo os produtores optarem por exagerados eye-candy actions.
Não se engane pelo rating do IMDB. Ele é extremamente inflado pelos milhares de votos de crianças e adolescentes do site. Para efeito de comparação, as pessoas menores de 18 anos deram média de 8.9 ao filme. Apesar de o fato ser compreensível (até mesmo pela popularidade crescente das histórias de Tolkien entre os jovens), não justificou a entrada no top 250 do site (saiu em dezembro de 2013).
A sequência de cliffhangers na última hora do filme não me agradou, embora considere um prato cheio para os fãs.Destaque para a grande atuação de Ian McKellen como Gandalf.
NOTA: 6/10